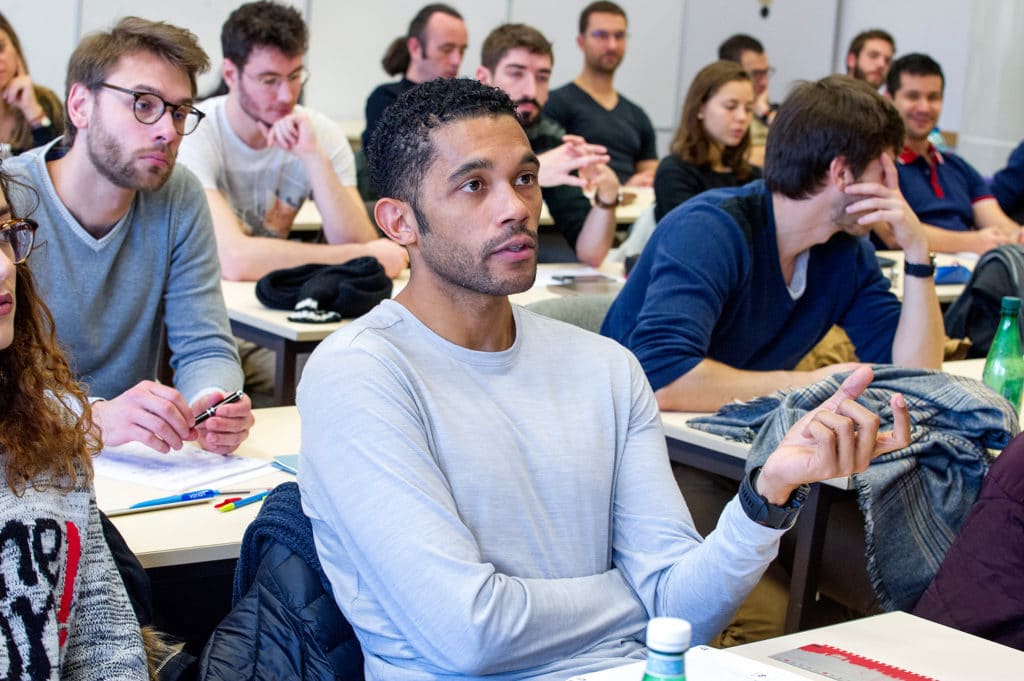 I. Enrolment formalities

II. Enrolment fees

III. Student and Campus Life Contribution

IV. Scolarships and suport shemes
I - Enrolment formalities
To find out the personal details of the teaching team for each degree program and the application and enrolment formalities, consult the course description sheet,  Diplomas item.
Before enrolling in a higher education institution, you must supply proof that you have paid the Student and Campus Life Contribution (CVEC).
II - Enrolment fees
The enrolment fee rate depends on the curriculum, the study level, your situation and nationality.
Diplomas supported by the INSTN
The enrolment fees for INSTN's own courses are training-specific. Refer to the tariffs for the relevant diplomas.
INSTN's own degrees are as follows:
DQPRM: Post-graduate diploma in Radiological and Medical Physics
GA: Advanced Graduate Degree in Nuclear Engineering
CPTR: Vocational Technician Certificate in Radiation Protection
Partnership and co-accreditation diplomas
The enrolment fees for the national bachelor's degree, master's or PhD diploma are set each year at national level by a joint Order of the Ministry for Higher Education and Research and the Minister in charge of the budget.
April 19 2019 Order governing enrolment fees in public higher education institutions, amended by Order on June 9 2020 and consolidated on July 10 2020, sets the enrolment fees for the 2020-2021 academic year.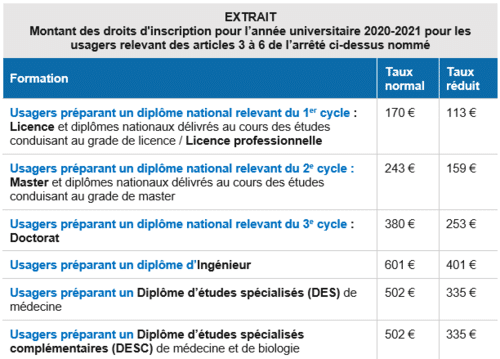 Normal rate v reduced rate
Students enrolled in several higher education institutions to simultaneously prepare several different diplomas must pay the enrolment fees of each diploma at the full rate.
If they are enrolled in the same institution to prepare several diplomas, they must pay:
The 1st tuition fee at the full rate,
The other fees at the reduced rate.
If these tuition fees have different rates, the fee paid first is the one with the highest sum.
Differentiated fees for international students
The April 19 2019 Order sets the enrolment fees which will be applied to the international students enrolled in a public higher education institution under the authority of the Ministry for Higher Education. To find out about differentiated fees - students concerned, sum of the enrolment fees, possibility of exemption - consult the Campus France site.
Exemption from enrolment fees
Exemption conditions for scholarship students
Scholarship students are exempted from academic enrolment fees. They do not pay the tuition expenses or the mandatory Student and Campus Life Contribution.
Students exempted from paying the CVEC must apply to the CVEC department for proof of exemption and supply the latter.
Other cases of exemption from enrolment fees
Some students, particularly if they are refugees or job-seekers, may request to be exempted. Special exemptions may not account for more than 10 % of enrolled students per institution (not counting scholarship students and wards).
As part of the phase-in at the start of the 2019-2020 academic year of the rise in the enrolment costs for international students outside the European Union, a decree states the cases where these students are potentially unaffected by this rise, depending particularly on their country or their personal situation. Exemption may be either full or partial. Provision is also made for a waiver within the framework of a bilateral agreement with foreign countries. In this case, French schools and universities may cancel the increase in enrolment fees, provided that an equality and reciprocity principle is respected.
Payment and spreading
As a rule, enrolment costs must be paid all at once. The INSTN gives the possibility of paying enrolment fees in three stages, free of cost, on request at the time of your enrolment.
III - Student and Campus Life Contribution (CVEC)
What is the Student and Campus Life Contribution (CVEC)?
The CVEC is intended to promote the induction and the social, health, cultural and sporting support of the students and bolster health prevention and education actions. tThe CVEC is collected by the CROUS (Regional Organization for University and School Assistance) and not by the institution in which you make your enrolment.
It applies to all students prior to their enrolment in an initial course, including remote tuition, in a higher education institution. If you are an apprentice, you must pay the contribution, but you can apply to your employer for a refund.
If you enrol in several training courses within the same academic year, this contribution is only due during the first enrolment.
Who is exempted from the CVEC?
You are not liable to the CVEC and are therefore exempted if you are:
A student on an international exchange in France (as part of an agreement between your institution and a higher education institution in France, via Erasmus programs);
A student enrolled in a continuing professional development program (whose training expenses are borne by your employer or a fundraising organization);
A person on an apprenticeship program enrolled on a professional development contract only;
If you are in one of the above situations, no action is required on your part.
You may be exempted from paying the CVEC if you are:
A scholarship student or receive an annual allowance granted as part of specific support schemes;
A refugee student;
A beneficiary of humanitarian protection;
Registered as an asylum seeker and are entitled to remain on French territory.
Even if you are exempted from any payment, you must obtain an exemption certificate on the CVEC on-line payment site, with the exception of exchange students, who do not need to supply an exemption certificate. Please note that your educational institution will not be able to finalize your enrolment without the certificate.
Further detail on scholarship students
You are exempted from payment of the CVEC if you receive one of the following scholarships:
A means-tested scholarship administered by the Crous ;
A scholarship paid for by the regions (for students in paramedical, health and welfare courses);
A scholarship from the French government (BGF).
You are liable to pay the CVEC if you receive:
A scholarship from a foreign government (BGE);
A scholarship paid for by a private structure (for example a foundation).
How do you pay the CVEC?
There are two possible ways:
By logging on to the CVEC site: http://cvec.etudiant.gouv.fr/ (bank card payment), item Log on. If you are enrolled in Parcoursup for the current year, you have received an e-mail on the creation of your account. The other students must create their account or modify it if it can no longer be accessed;
By going to a Banque Postale counter (cash payment). The list of Banque Postale counters is available on line. A € 5 charge must be paid in addition. A named payment notice will be issued to you and you will receive within 48 hours an e-mail to download your CVEC certificate.
How to apply for a refund of the CVEC?
You can obtain a refund of the CVEC sum if, for example, your situation changes during the year and you become a student exempted from its payment. Requests for a refund will be submitted directly to the Crous via the CVEC application between October 1st and May 31st of the current academic year. The refund will not be available for all cases of exemption.
Any more questions? You can consult the la FAQ on the CVEC web site.
Actions funded by the CVEC at the INSTN
Happsy Line: psychological support scheme for INSTN students
In this complex and unprecedented health context, the INSTN set up in January 2021 the Happsy Line initiative for its students.
Funded by the CVEC with support from the Versailles Crous, the objective of the Happsy Line is to help students cope with any worries or concerns they may be going through and which may be preventing them from moving forward in their personal lives and studies.
Exceptional emergency support – Covid19
Owing to the Covid-19 health crisis, some students have been impacted by a loss of income. To help these students in difficulty, the INSTN has decided to allocate some of the CVEC funds to an exceptional emergency assistance scheme.
INSTN Student Induction Day
Each year, the INSTN organizes an induction day for its students. The program features partner stands, a photo call, an inter-student challenge, gifts and an INSTN sweatshirt handed to all participants.
Financial backing for DQPRM Student Office
At the end of the award ceremony for DQPRM students (Post-graduate diploma in Radiological and Medical Physics) the members of the DQPRM Student Office organize their ball, the Student Office receives usually CVEC funds to fund their event.
IV - Scholarships and support schemes
Crous scholarship
For the calculation of means-tested scholarship entitlement, the award conditions and the creation of a student application file, consult the web site: http://www.cnous.fr/ 
For your application to be processed in the shortest possible time, please stick to the application schedule.
Useful information about means-tested scholarships can be found on the web site: https://www.etudiant.gouv.fr/fr/les-bourses-sur-criteres-sociaux-1486.
Nuclear Engineering students
Whether you are enrolled at Saclay or Cadarache, your affiliated Crous is that of the Académie de Versailles.
In your student application file, the procedure is as follows for validating your choices in your scholarship application:
Choice 1 - Versailles
Other type of curriculum: higher, leading to master's level or equivalent
Engineer training (year 3)
List of institutions: National Institute of Nuclear Sciences and Techniques Gif-sur-Yvette
Others students of INSTN's own degrees
Students in INSTN's own degrees are not eligible for a Crous scholarship for the following reasons:
CPTR: training affiliated to the Ministry of Labor, not accredited by MESRI (Ministry of Higher Education, Research and Innovation);
DQPRM: training not accredited by the MESRI.
A positive response will not be given to any application for a Crous scholarship via your Student Application File.
Students enrolled in a bachelor's degree, Master's or PhD
If you are enrolled in an INSTN course accredited by a partner institution or university, you must submit your scholarship application to the Crous of the academy on which your course depends
Means-tested scholarship from the INSTN and the EDF Foundation
INSTN scholarship
The INSTN scholarship is a means-tested scholarship granted to INSTN students to help them through their studies within the school.
This scholarship is only for students enrolled at the INSTN as their reference institution. Only the students of the following courses are eligible:
DQPRM 1st year only (2nd year students collecting a gratuity are not included),
Master's in Technology and Innovation Management (MTI),
Master's in Energy Economics,
Master's in Nuclear Energy, majoring in Nuclear Reactor Physics & Engineering (MNE-NRPE),
CPTR, in the initial education program and excluding apprenticeship only.
EDF Foundation scholarship
The means-tested scholarship and the mobility scholarship from the EDF Foundation are solely dedicated to INSTN students enrolled in the master's of engineering degree specializing in Nuclear Engineering.
Combination of scholarships
Students receiving a Crous, Erasmus+ or State scholarship may apply for one of the two means-tested scholarships, depending on the program they are enrolled in.
Under no circumstances may the INSTN or EDF Foundation scholarship be combined with any other form of support not related to student status (Pôle Emploi benefits, Pôle Emploi or employer funding, etc.).
Application procedure
The scholarship application form and explanatory notice will be handed to you by your course assistant during your enrolment.
Specific Crous support
If you are in a difficult financial situation, you can apply for specific Crous support, whether or not you are a scholarship student. This support is intended to help you in case of day-to-day difficulties: food, rent, etc.
Directly contact the Crous welfare department on the site of your institution:
As soon as your detailed request is received by e-mail, a welfare assistant will review your social and financial situation and you will be given a rapid reply.
Note
Students enrolled in the INSTN's own courses (DQPRM, Nuclear Engineering, CPTR, BTS CriaTP) must get in contact with the welfare department of the Versailles Crous, even if the course takes place on a site other than Saclay. The INSTN sites in the regions are affiliated to the INSTN headquarters located on Saclay plateau, and are therefore affilated to the Crous of the Versailles Academy.
Other specific support schemes
Are you in a critical situation? Are you going through a difficult patch and in need of urgent financial help? There are specific support schemes for coping with special situations. Depending on your needs, this help may be an annual allowance or one-off support.
Consult the web site for all specific support schemes: https://www.etudiant.gouv.fr/fr/aides-specifiques-1306
Contact
Caroline Gauthier
Student Life - Tuition Coordinator
Caroline.gauthier2@cea.fr
Tél. +33 1 69 08 35 17